It's hard to believe that 2 decades have gone by since the release of the indie horror cult hit THE EVILMAKER. Starring the voluptuous scream queen Stephanie Beaton and indie girl Felicia Pandolfi, writer/director John Bowker's horror opus garnered coverage from Draculina magazine to B-Independent and countless other websites. Arrow In The Head raved, "Ambitious effort strikes chords most small budget offerings don't try to hit...Stephanie Beaton's best performance ever!"
This special release is the excellent double feature disc put out by Tempe Video, including THE EVILMAKER and ABOMINATION: EVILMAKER II, plus tons and tons of extras including the fantastic 44-minute documentary on the making of ABOMINATION. A new dvd sleeve, marking the 20th anniversary of the original's release, is signed by writer/director John Bowker and LIMITED TO JUST 30 COPIES. As a special bonus for this limited edition, a dvd of John Bowker's other Tempe Video release, PLATOON OF THE DEAD will also be included.
---
$25 plus $3 shipping within the USA
---
THE EVILMAKER (2000, 99 mins.): Serena returns home after escaping an abusive relationship to spend time with three of her friends from high school. A weekend at the beach seems like an ideal way to relax and relive the old days until their car breaks down near an abandoned house. What starts out as a creepy night turns into three days of hell as they experience terror around every corner while they fight to survive The Evilmaker!
ABOMINATION: EVILMAKER II (2003, 79 mins.): A year after tragic events struck four close friends, the mystery of their disappearance still has not been solved. One family member dares to hurl herself into a web of darkness and evil in order to find out what really happened. The evil unleashed from her actions will have a terrifying consequence for everyone as they combat The Evilmaker!
BONUS FEATURES:

Audio commentaries for both films with writer/director John Bowker and co-producer/director of photography Joe Sherlock
EVILMAKER blooper reel
EVILMAKER behind-the-scenes
Making of ABOMINATION featurette (44 minutes!)
Tempe Video trailers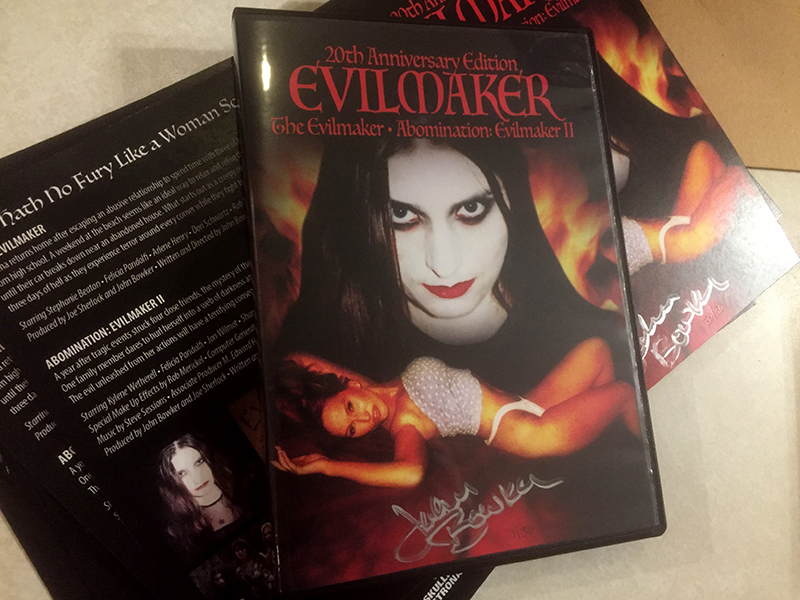 Both movies are also available on streaming (just the movies, not the extra features):
---
The Evilmaker/Abomination double feature dvd is also available in a standard edition (not signed and numbered, original Tempe Video sleeve, no extra Platoon of the Dead dvd) in the store.