---
The Latest...

March 5, 2010
Rerelease, Title Change by Distributor
Sub Rosa is rereleasing BRV on June 29, 2010 under the new title of "Inbred Redneck Vampires" to better align with their other "Inbred..." titles. Here's the new artwork:

March 2008
Do you want a DVD of Bloodsucking Redneck Vampires?
The first run of DVDs from Sub Rosa Studios/b-movie.com is sold out! Sub Rosa plans to get more DVDs replicated, but they want to keep it off the market for a while so that when it's "fresh" when it comes out again. There are a few for sale on EBay and other sites, but fewer every day. If you want a copy, please e-mail me at drsquid@drsquid.net and let me know. I will build a list and when new discs are available, I'll drop you a line. Here's the trailer!
February 2008
We made the paper!


The Salem Statesman-Journl ran a big story in today's entertainment section about me, BRV and the Monster Movie Madness series. Check it out online at http://www.statesmanjournal.com/apps/pbcs.dll/article?AID=2008802070305
Lloyd Kaufman give BRV Thumbs Up!


Well, he gives everything a thumbs up - that's his standard photo pose, but it's cool to have met him just the same!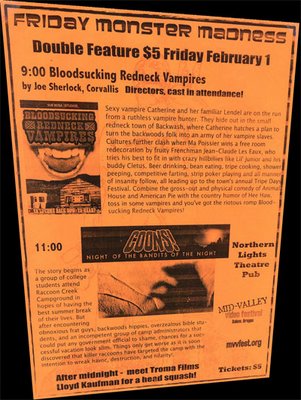 The screening at Northern Lights Theater Pub was awesome. They showed BRV, then Rob Merickel and I did a little demonstration of using a melon with a wig on it for a smashed head effect. Lloyd was not only running late, but he had the second part of the double-feature with him! So the Mid-Valley Video Festival guys opted to turn the night into a Joe Sherlock double feature and show UNDERBELLY. Lloyd finally showed up after midnight, did some Q and A and took pictures. Good times!
January 2008
Bloodsucking Redneck Vampires Screening with Special Guest Lloyd Kaufman!
It's on! BLOODSUCKING REDNECK VAMPIRES shows on the big screen at the Northern Lights Theater Pub this Friday, Feb. 1 around 9 p.m. BRV shows, followed by COONS (a b-movie about rednecks and killer racoons) followed by special guest Lloyd Kaufman, the man behind Troma films and such classics as The Toxic Avenger and Class of Nuke'em High. Did I mention the theater is a bar, too?! Two crazy movies plus Lloyd Kaufman for $5. Such a deal. Let's pack the place and get rowdy! Northern Lights Theater Pub, 3893 Commercial St. SE in Salem, Oregon. Directions, menu and beer & wine list at www.northernlightstheaterpub.com
September 2007
Here's an article about the upcoming screening for BLOODSUCKING REDNECK VAMPIRES: http://www.tdn.com/articles/2007/09/06/this_day/news10.txt
August 2007
Bloodsucking Redneck Vampires will have it's Winlock, Washington (where the bulk of the movie was shot) premiere on Saturday, September 8, 2007. The event will be held at Franks Hideaway, 108 W Walnut St., Winlock, Washington. The movie shows at 7 p.m. with the band TWO MINUTE MIRACLE performing afterwards. TWO MINUTE MIRACLE wrote the theme song for the movie as well as a couple of other tunes. Come on out, drink beer and check out the flick!
SOLD OUT! The first pressing of BRV DVDs are sold out from the distributor. Our own stock is out as well, but you can still surf around and find copies for sale from a number of online retailers. The distributor says they will eventually have more DVDs made - we'll post news on this site as soon as we hear something. In the meantime, if you want a copy and can't find it online, drop us a line and we'll let the distributor know that there is a demand out there.
July 2007
The June 15 showing at the Northern Light Theatre Pub (http://www.northernlightstheatrepub.com) was a big hit! We packed the theater with only 5 seats to spare. Everyone seemed to dig the movie - they laughed at the right parts and recoiled in horror at the right parts! Six folks drove all the way down from Winlock, Washington (including Two Minute Miracle who did the title theme and other music for the movie). Cast members Rob Merickel (Lil' Junior), David C. Duncan (Jed), Robert J. Olin (B.J.) and Dale Wilson (Mr. Wilson) were all in attendance. I got to introduce the movie and take a few questions afterwards and they guys from the Mid-Valley Video Festival (who arranged the screening) bought me a beer - who could ask for a better evening! We may be working out a showing in Winlock, so stay tuned!
June 7, 2007
On The Big Screen Again...with Beer Again!
Friday, June 15 at 9 p.m. at the Northern Light Theatre Pub (http://www.northernlightstheatrepub.com), 3832 Commercial St. SE in Salem, Oregon. Admission is only $3 and the place had food, beer and wine for sale, too! I believe it will be 21 and over only, but am checking just in case. Come on down (or up depending on where you live) and laugh out loud at the gross-out horror/comedy wackiness. Hope to see y'all there!!!
Check out the website for Two Minute Miracle - they appeared in Bloodsucking Redneck Vampires and composed and performed the theme song (which you can hear on their site!)
Cheap! Go to www.b-movie.com to order - now just $9.99!
2005
A big fabulous congratulations to Scott Shanks who was named "Rookie of the Year" for his performance as fruity French interior decorator Jean-Claude in BLOODSUCKING REDNECK VAMPIRES in Video Crypt's Best of 2004 List (http://videocrypt.com/11405.html)! Scott did turn in a fantastic performance and was a real trooper for BRV, his first feature!
RENT IT! You can rent BRV through NetFlix: http://www.netflix.com/MovieDisplay?movieid=70011927&trkid=130516 or GreenCine: http://www.greencine.com/sitemap/movies/Bloodsucking-Redneck-Vampires.html.
BUY IT! Go to www.b-movie.com to order!!!
Sept. 9, 2004
We're #1! "BRV" debuted in the #1 spot on Sub Rosa Studios "Current best Sellers" list ((wholesale/retail) for 8/26/04-9/5/04)!
An interview with BRV's own Catherine, Felicia Pandolfi (known for her roles in The Seekers and The Evilmaker) has been posted over at b-movie.com's Dark Gallery: http://www.b-movie.com/darkgallery/dgallery.php?DGID=146
August 23, 2004
THE DVD IS ON SALE NOW!!! Go to www.b-movie.com to order!!!
July 27, 2004
An interview with co-writer and director Joe Sherlock has been posted in www.b-movie.com's "Dark Gallery" e-zine: http://www.b-movie.com/darkgallery/dgallery.php?DGID=143. An interview with the lovely Felicia Pandolfi is forthcoming...
July 27, 2004
The movie had a great one-week run at Sabala's - word has it about 100 people came to see it! Click here to see some photos & a couple of newspaper ads that ran to promote the showings.
Check out the final DVD sleeve from Sub Rosa Unbound to the right. The DVD has popped up around the net for pre-order from a variety of online retailers, and should be available for pre-order from www.b-movie.com soon. Stay tuned...
July 1, 2004
BLOODSUCKING REDNECK VAMPIRES will be showing at Portland's Sabala's at Mt. Tabor (4811 SE Hawthorne Boulevard, Portland, Oregon - 503-238-1646) from Friday, July 2 through Thursday, July 8, 2004.
Showtimes are at 5 p.m. and 7 p.m. each evening and the cost is a mere $3! The venue is 21-and-over (no exceptions, sorry), which also means that you can drink your fill while you feast your eyes upon the greatest redneck vampire horror comedy ever made in Winlock, Washington. If you or your friends who are dying to see the movie are under 21, don't despair - we are looking into other outlets as well.
May 13, 2004
It's done!!! After a whirlwind 2 weeks of furious editing, checking, re-editing, re-checking, multiple trips to meet and hand off videotapes and lots of late nights, Bloodsucking Redneck Vampires and all the DVD extras have been turned in to Sub Rosa. Whew! Now...sleep!
April 30, 2004
The Mike and Joe DVD commentary has been recorded. Mike's got a lot of CG work done and it's way cool! I am putting together a photo gallery for the DVD, as well as doing some final tweaking on the behind-the-scenes and bloopers featurettes. We just found out that our due date for materials has been moved up, so we are working hard to finish everything up quickly! Fangoria's website just listed a release date for the BRV DVD: September 28, 2004. We've got a "street date!" Woo hoo! If you would like to be alerted via e-mail when the DVD is available for pre-ordering, e-mail me.
April 15, 2004
A long promotional video for potential buyers is complete, and a traditional trailer will later be made by trimming this down. Work continues on music and sound effects, with CGI effects to be done sometime in May. Rob Merickel, who did fantastic make-up effects on top of playing the part of Lil Junior, recently sent over some of the digital pictures he took during our shoots in Winlock. Check the photos page!
For previous news, see the PRODUCTION DIARY
---
News / Story / Cast / Crew / Photos / Diary / Buy / Back to Dr. Squid's Smorgasbord of Terror!!! / E-mail Joe
---
reviews